Notes From the Playoffs
The strange and beautiful sound of "Toronto Raptors, 2019 NBA Champions" and what it could mean for basketball around the world.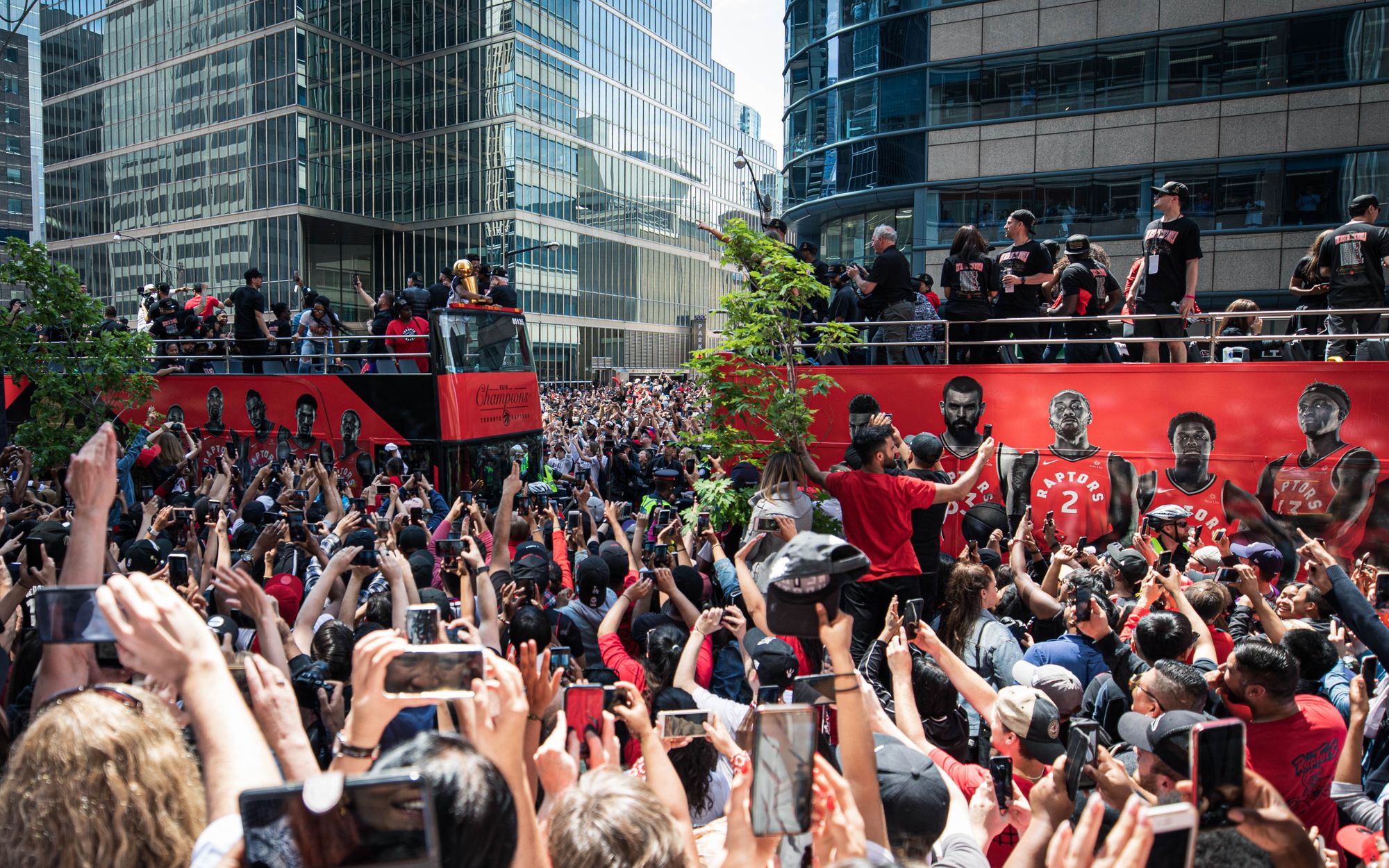 It is late June, 2019. The Toronto Raptors took the Larry O'Brien Championship Trophy back to Canada less than two weeks ago. NBA teams are starting to make post-season moves.
Even with time for it to sink in, "The Raptors, 2019 NBA Champions" sounds odd. Suddenly, it feels like we are living in a new NBA age. And in all likeliness, we are.
The NBA has never looked as international. Adam Silver struck the "international" bell during his trophy presentation speech, saying the sport had come "full circle" with Toronto's victory, basketball being invented by a Canadian, and highlighting the fact there are players from six countries on the Raptors roster.
Raptors President of Basketball Operations Masai Ujiri — born in England, raised in Nigeria — followed suit with his first comment of the ceremony, shining the light not just on Canadian pride, but on international basketball:
I tried to prove to the world that there is a meaning to having one NBA team outside the US.
Amongst key Raptors players, Spain (Gasol), Cameroon (Siakam), and the Congo (Ibaka) are represented. Nick Nurse spent over a decade coaching in Europe. The Raptors don't sport the highest count of international players — that belongs to the Mavericks (7), followed by the Jazz and Clippers (6 each) —, but in combination with the franchise being located on international soil, Toronto becomes something of a beacon sending out the message that today's NBA, and basketball in general, extends beyond US borders.
The NBA's increasingly global nature is made clear by new ventures such as the Basketball Africa League, a new pan-African league launching next year as a joint effort between FIBA and the NBA, with sponsorship from Jordan Brand and Pepsi, and President Obama's involvement. Players like Pascal Siakam and Joel Embid, who both came over from Africa in recent years and have quickly made their mark in the league, are likely a big part of what motivates and inspires such new developments.
Changes to the global popularity of a sport must be made slowly, and for basketball to reach the point where it is, for example, widely recognised as a global sport by casual sports fans on a similar level to soccer, would likely be a multi-decade effort. But what is becoming apparent in the wake of the 2019 playoffs is that the ship is indeed floating in that direction. It's not just hype, or the NBA painting its own image in wishful terms.
---
As for the Finals series itself — the basketball was competitive, and often thrilling.
A physically worn Leonard (having been through a gruelling play-offs run) adapted his game and became often a facilitator, kicking the ball out when he didn't have position to finish using strength over athleticism (which he was terrific at when he had position), or taking key three point shots, or drawing the foul and getting to the line 13.0 times per game (up from 8.3 attempts over the rest of the playoffs) and knocking them down at an insane 92.3% rate over the series (up from a regular season 85.4%). Leonard may be the first "clutch free-throw shooter" I've seen, where I'm considering "clutch time" in this context the entire Finals series.
An over-burdened Curry carried his team through long stretches without key Warriors, keeping the team closer to victory than they had a right to expect. Klay Thompson practically manifested the definition of "warrior" on the court, showing his offensive potency and defensive grit in terms so clear many members of the media must have been silently rethinking their 2019 All-NBA Team votes.
A similar illustration of player value was delivered by Looney. Or rather, delivered by his absence due to a collarbone injury and subsequent compromised play after an unexpected early return (a common Warriors theme this post-season). It became apparent over the series he is an indispensable "glue guy" for the Warriors, and he needs to be one of the offensive threats on the court in key stretches to see the complete Warriors system in play.
Championship calibre contributions from across The Raptors roster can't be underestimated. Ibaka, VanVleet, Siakam, and Gasol all played key roles in crucial moments. Kawhi established a slowly-ramping-up pace throughout the playoffs, where he would gradually increase his output over a game, often hitting a spectacular stride late in the third quarter and maintaining it through the fourth quarter to take over a game when he needed to, but allowing Lowry and other key contributors to step up and get into rhythm earlier on. The 2019 Raptors was a beautiful engine when all its cylinders were firing, and hopefully we see it return with all its pieces in place next season.
---
Basketball aside, the most dramatic and unfortunate note of the Finals came from the devastating injuries sustained by Kevin Durant and Klay Thompson in the final two games of the series — both players having sustained initial injuries in the playoffs and making quick returns.
Durant made a surprising return in Game 5, with the Warriors down 3-1 and on the verge of elimination. I say "surprising", because although the Warriors had consistently stated they were hopeful Durant would return in the Finals, that prognosis never seemed right — he went down in Round 2 with classic signs of an Achilles injury (which was immediately commented on by the broadcast commentators), and the reported calf strain didn't seem to fit with the reality of Durant being seen with ice packs very low on his ankle weeks later.
I disregarded all comments from the Warriors regarding Durant's return up until the hours before Game 5, when he was announced as a starter. My thought prior to that moment was The Warriors were employing some kind of thinly-veiled tactical manoeuvre in insisting Durant could be back quickly — perhaps just to mess with the preparations of The Raptors. But come Game 5, and there Durant is, laced up and taking his spot on the court. He played eleven minutes of the first quarter, knocking down threes like the scoring machine he is.
Then the second quarter was underway. Durant dribbled the ball up to Ibaka, and went to make a move past him to penetrate into the lane. His first hard foot plant was immediately followed by a painful jerk and a limp to the sideline, where he collapsed as the play went on, clutching his ankle around the Achilles that was feared injured in Round 2. This time the Achilles was torn. No question. Durant, approaching the age of 31, days away from hitting free agency, often cited as the best player in the league this season, will be out for what is most likely a full year, with no guarantees of a complete recovery.
The strange, gloomy, deflated atmosphere that descended on Game 5 following Durant's injury was unlike anything I'd felt before in an NBA Finals game. The Warriors, fuelled by the loss of Durant, played with a fiery defiance against a resilient but de-energised Raptors, and walked away with an impressive and gutsy 1 point victory after finding themselves 6 points down with 3 minutes to go, keeping the series alive.
Come Game 6, and the durable Klay Thompson, who also returned surprisingly quickly from an injury sustained in Game 2, played lights out basketball, scoring a team-leading 30 points. Things were going well for The Warriors, up 3 points late in the third quarter, until Danny Green contested a dunk attempt by Thompson off a fast break. Klay landed hard and was left writhing in pain, unable to get back up unassisted. Klay defiantly returned to the court, limping, to shoot his free throws, but the news came fast after Klay was escorted back to the locker room that his ACL is torn. Another Warriors star, also entering free agency, was out with a long-term injury.
These two injuries cast a strange light over the Finals, but also on the Warriors organisation, as a dynasty that was already coming to a crossroads with Durant's expected departure and key players like Iggy and Green looking less able to make Championship-level contributions over the season. Entering the Finals heavily favoured over The Raptors, then losing both the series and two of their superstars to injuries with lengthy recovery times, would be a death blow to most teams.
The Warriors of today is exceptional, however, and its magic runs deeper than most teams. They went down swinging in the 2019 Finals, and it's a given that they will continue to fight their way back into elite shape. They still have enormous competitive resources to draw on to make that happen.
---
Perhaps the most remarkable thing about the 2019 post season, taken as a whole, is how rich in competition and complete in engaging narratives it was despite LeBron's absence. After 13 straight post-season appearances, towering over the last 8 (since his move from Cleveland to Miami), King James watched these playoffs from home. Which, given the limited potential of the 2018-19 Lakers, and the benefits a long off-season rest period could have for the 34 year old great, might prove to be a blessing in disguise.
For the first time in many years, and not just due to LeBron's move west, the Eastern Conference felt like a battleground. Toronto's post-season was exceptional in many ways, but the difficulty of the path they took to get to the Finals might have been its most impressive aspect.
The 76ers made a terrific showing in Round 2, taking The Raptors to a Game 7 in which Kawhi had to pull out a buzzer-beater that bounced four times before dropping through the net — each bounce vibrating off the rim like a death knell for the four-headed monster from Philly — to put them away.
The Giannis-led Bucks, strong favourites heading into the series, took every ounce of tactical strength from Nick Nurse (the construction of "walls" in particular, which effectively shut down The Greek Freak, became a big talking point in the series), rounded contributions from all key players in different moments and games, and a lot of Kawhi magic to topple.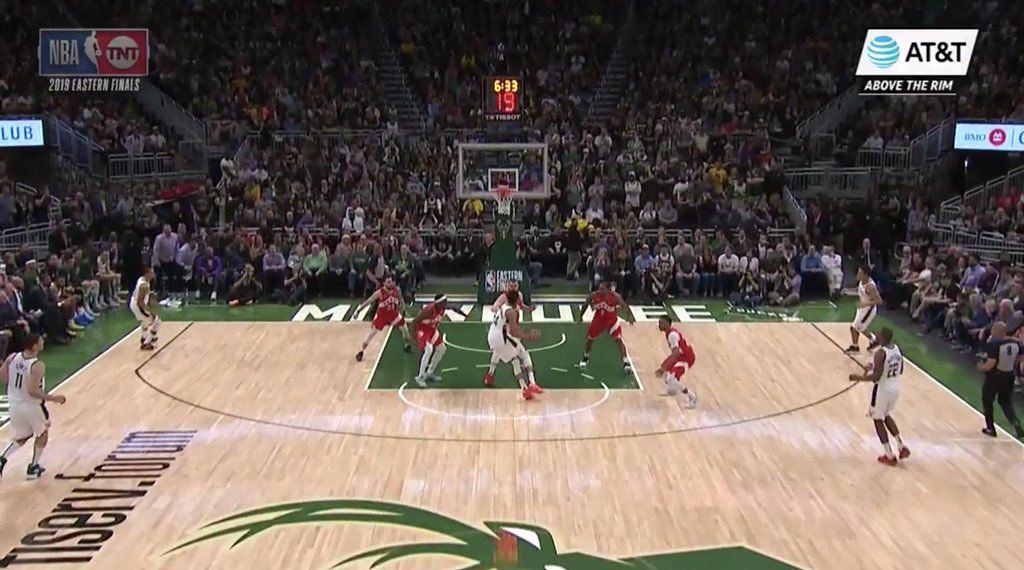 As the buzzer sounded at the end of Game 6, The Bucks eliminated, Antetokounmpo and cohorts had the look of men who did not accept the reality in front of them. Defeat to The Raptors did not jibe with the way Giannis understands the universe in 2019. "Confidently perplexed" is how I would describe his demeanour. Watching, I was struck with a simple thought: Giannis will be back this time next year, and it will take wild horses to stop him next time.
Houston extended their recent legacy of being the elite, number two team in the West, always ever-so-slightly unable to defeat The Warriors in one way or another. Post-season reports suggest Chris Paul and James Harden are at loggerheads, and are on such bad terms they may refuse to play together next season. This aligns with what could be seen in an unusually tense post-game press conference during their Round 2 Warriors series, where the two exchanged barbs throughout.
In notes from the early post-season, the Spurs vs. Nuggets series was easily the highlight of Round 1. A close matchup of two talent-rich teams backed by great coaching, going toe to toe over the long haul. The series went to Game 7, and gave something for basketball fans to sink their teeth into during the opening round. These two teams are great, though neither are fully configured to win a championship.
Damian Lillard's Trailblazers, who eliminated OKC in Round 1 with an awe-inspiring buzzer beater from Lillard 37 feet out, with zero time pressure to take the final shot from that distance, must also be mentioned. Chances are it's the most brash buzzer beater ever seen in the sport's top professional level, and possibly the only shot of its kind attempted, never mind made, at that level. It was an incredible moment that will go down in Playoffs history. The Trailblazers were the scrappy underdog who outperformed all expectations this year. They went on to upset Denver, before falling to The Warriors in a series that was more competitive than the 4-0 series outcome suggests — and was particularly entertaining for its Steph Curry vs. Seth Curry moments.
---
Looking back at the 2019 playoffs with a bit of distance, it's easy to see the NBA is in terrific shape. Perhaps the best shape it ever has been. While Michael Jordan shone a gigantic spotlight on the NBA during his time, and brought it unprecedented global attention that has not been matched since, that spotlight tended to shine first on Jordan and The Bulls, and secondarily the NBA or the sport in general.
What is special about the state of the NBA today is the multiple narratives running at once, each commanding more-or-less equal attention. There is Steph Curry and the Warriors dynasty, breaking records, boasting the best shooting back-court of all time matched with one of the greatest pure scorers of all time in Durant. There is King James, in contention for GOAT status, now at The Lakers and joined by a young superstar in Anthony Davis to play out the last few great seasons we can expect to see from him. And now the miraculous upset story of the Toronto Raptors, taking the NBA Championship trophy to Canada for the first time, led by the silent assassin Kawhi Leonard, who is captivating fans with his unusually reserved and business-like attitude, and is being compared to Jordan on the court. That's not to mention The Greek Freak — just announced 2018-19 MVP and sure to be coming with a full head of steam into the 2020 playoffs. Bubbling under all those stories is Durant, the Achilles injury, and whether he will end up in New York where The Knicks could see themselves restored into an elite, Championship-ready team that may be the talk of the league a year from now.
Each of these multiple NBA narratives is fascinating and engaging, and there is no clear answer to which one is "the story" of the league. It's all up for play, and fans are spoilt for choice.
The 2019 playoffs shook up the NBA landscape, breaking it out of what had become a preset pattern of LeBron vs. the best in the West for eight consecutive playoffs. The league feels fresher and more energised than it has in a long time, and so far next season, even without Durant, looks set only to elevate levels of intrigue from there.
These conditions are exactly what is needed as the sport continues to expand its international reach, as new fans from around the globe are exposed to the thrills and spills of NBA basketball.
🌍🏀
---
James Lanternman writes movie reviews, short fiction, essays, and moonlit thoughts. Reach him at [email protected], or follow on Twitter.