Substantial Vegetarian Recipes
A collection of vegetarian recipes that can replace heavier meat-based dishes.
One of the best things we can do to fight climate change is to cut down or eliminate our consumption of meat. Actually, it is the biggest lifestyle change you can make to reduce your contribution to environmental damage.
Which means, at least, cooking and eating a lot more vegetarian recipes.
One point of friction that keeps people eating meat is the notion that meals that do not have meat or fish in them are not substantial.
This is absurd when you think about it, but it's an idea that sticks. Associating meat with "filling" food is done through force of habit and/or cultural associations. When people think of food without meat, some think light, leafy, and green.
Actually vegetarian meals are often indulgant, supremely filling, and substantial.
This is a collection of such recipes, which I'll refine and add to over time. These are useful for those moving away from eating meat, but who need to be convinced non-meat recipes can leave them lying upturned on the floor like a beached whale, too.
Mushroom Risotto
A heavy dish packed with flavour, using butter and cheese to compliment its mushroom soul, and short-grain rice as the medium of delivery.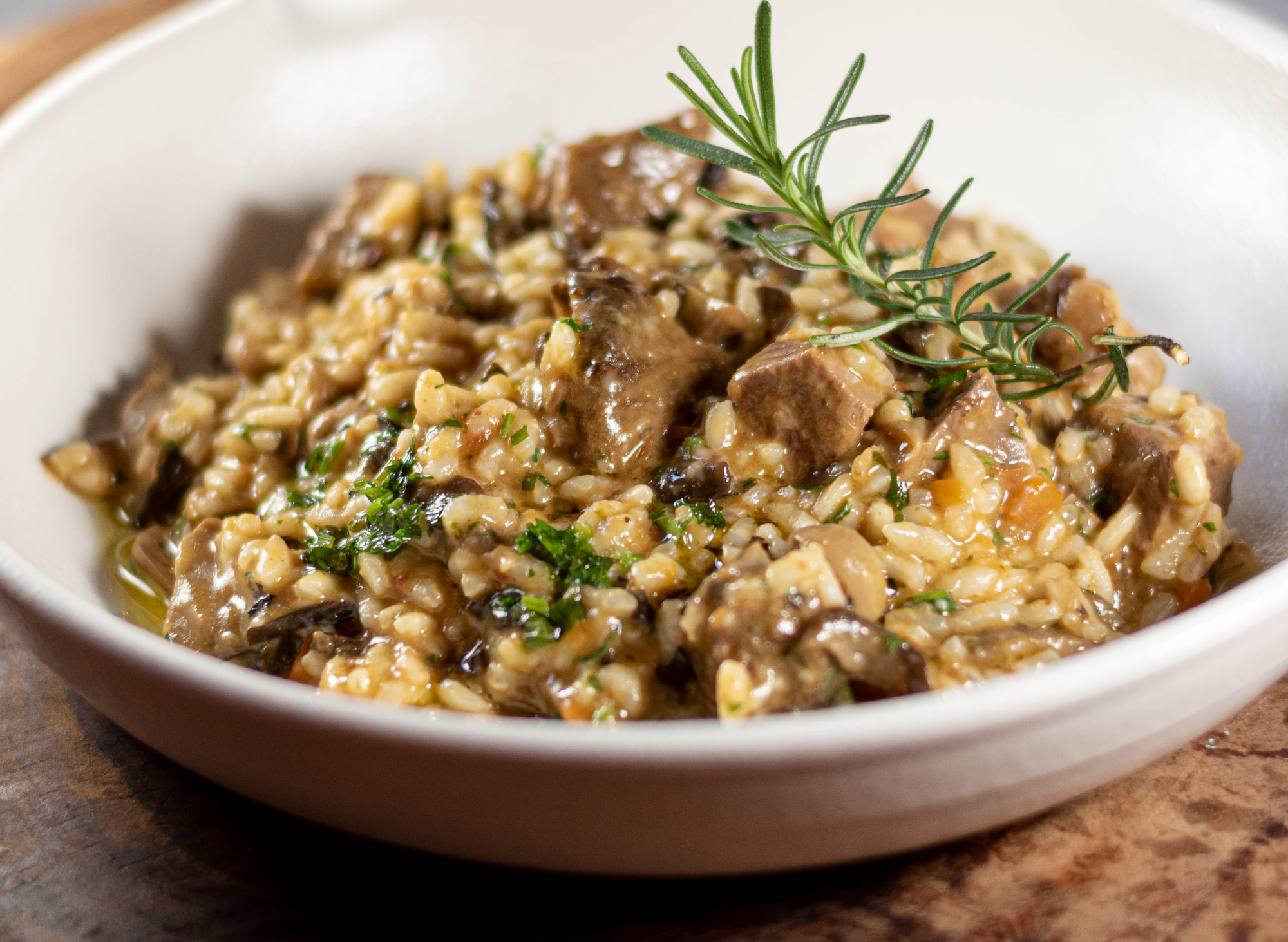 Mushroom Risotto
Ingredients (serves 2):
150g fresh mushrooms (field, chestnut, porcini, ovoli, chanterelles — almost any suit)
20g dried mushrooms (porcini are a good choice)
150g risotto rice (arborio, carnaroli, or vialone nano)
30g parmesan, grated
30g butter
½ onion or 2 shallots, finely diced
1 garlic clove, finely chopped
1.25 litres vegetable stock
1 tbsp x olive oil
1 tbsp x rosemary leaves, chopped
75ml (half a glass) white wine or vermouth
Directions:
Soak dried mushrooms in warm water for at least five minutes (preferably half an hour). Drain and chop, along with the fresh mushrooms.
For the stock: bring water to a boil and dissolve cubes, reduce heat and simmer.
Heat olive oil and melt 15g butter in a frying pan, medium heat.
Add onion and fry, stirring, until soft & translucent (a few minutes).
Add mushrooms and rosemary. Fry, stirring, until soft (a few minutes).
Add rice. Stir until the grains appear translucent (about 1 minute).
Increase heat, add wine/vermouth. Should sizzle. Cook, stirring until most has evaporated.
Add one ladleful of the stock to the pan. Stir constantly with a wooden spoon, until all liquid is absorbed.
Add more stock, one ladleful at a time, stirring and waiting until each is absorbed before adding the next.
Stop when the rice is done. Should be plump, firm, and not chalky in the middle (15-25 minutes). The consistency of the rice should be loose and creamy, with flow.
Remove pan from the heat. Add most of the parmesan & parsley, leaving a bit to top with.
Taste, season, and cover the pan. Rest for 5 minutes.
Serve, topped with the remaining parmesan & parsley.
Vegetable Paella
Like risotto, paella also uses short-grain rice, but is prepared in a very different style. It is a summer dish rather than a winter one, and in place of butter and cheese is potato, auburgine, zucchini, a variety of greens, and tomato — with paprika spice, and lemon. I took a very authentic recipe (which I am sure was made by a bureaucrat) and simplified it a bit. It takes a fair amount of work compared to some recipes, but if you put energy into it you'll have it ready in just over an hour.
Vegetable Paella
Cook time (start to finish): 70 mins
Ingredients (serves 2):
200g paella rice (short-grain — bomba, if you can)
Vegetable stock (double the rice in volume)
75g green beans, chopped
50g broad beans (AKA fava beans)
1 fresh tomato, grated
1 onion, finely chopped
2 garlic cloves, chopped
1 artichoke, prepared & quartered as below
½ aubergine (AKA eggplant), cubed
½ zucchini (AKA courgette), cubed
1 potato, peeled & chopped
25g peas
Sweet pimentón (paprika)
Dried saffron
Lemon juice
Directions:
Finely chop the onion. Dice the aubergine & zuccchini. Peel & chop the potato. Grate the tomato. Cut the green beans into 4cm pieces. Shell the broad beans if they are not already.
Prepare the artichoke – a fundamental paella ingredient. Remove the outer lips from the flower, cut most of the stalk off, peeling the outer layer off the remaining stalk. Cut the top off the flower. Peel the outer layer, cut into quarters, scoop the inedible hair part out with a teaspoon. Cover with lemon juice to prevent browning.
Make vegetable stock: twice the volume of the rice.
Put salt in a paella pan (frying pan will do, bigger & flatter the better), add olive oil, heat to medium-high.
Fry onions until softened. Add the green beans to the pan, cooking on a high heat to achieve colour.
Lower heat, add artichoke. Don't stirr much, as juices will be released and will start poaching / boiling rather than frying. 5 mins.
Add chopped garlic. Fry 30-60 secs.
Add potato, fry 2 minutes, stirring.
Add aubergine & zucchini. Fry 1 min, stirring.
Add the pimentón, followed quickly by the grated tomato. Cook for 2 mins, stirring. This is where everything gets a nice dark, rich colour.
Add broad beans & and peas. Fry 5 mins, stirring often.
Add rice, fry & stir for 1 minute.
Pour the stock into pan and stir, making sure rice is spread evenly. Add the safron (if you have it), crushing and spreading around the pan well. Bring to boil and leave cooking on the highest heat until liquid is gone and rice is done (10-15 mins).
Remove from heat and rest for 5 minutes. There should be a crispy layer on the bottom, and burnt bits on the side.
Enjoy!
Pasta alla Norma
One of the staple pasta dishes of Silicy, which happens to be vegetarian. Golden fried cubes of aubergine, on short pasta tubes coated in a tomato sauce and topped with grated hard salted Ricotta cheese.
Pasta alla Norma
Ingredients:
1 aubergine (AKA eggplant), cubed
2 garlic cloves, finely chopped
Short tube pasta (rigatoni, boccole, macarrones)
Salted ricotta (a hard cheese, not the soft form of ricotta – can be replaced with another hard cheese like parmesan), grated
1 dried chilli
1 tin chopped tomatoes
Panko breadcrumbs
Fresh basil
Directions:
Cube the aubergine, put in colander. Cover with salt and leave over sink for at least 10 minutes, to draw out excess moisture.
On a low heat, fry the galic until softened. Don't colour. Add chilli towards the end.
Add chopped tomatoes. Simmer 10-15 mins, until sauce thickens.
Rinse the aubergine. Turn the heat up and add to frying pan. Should sizzle and begin browning immediately. Fry until golden, set aside.
Cook pasta, drain, season with pepper & butter.
Fry the bread crumbs and set aside.
Add the pasta to the sauce. Turn the heat up and toss for one minute.
Serve, garnished with grated ricotta, fried bread crumbs, and torn basil leaves.
Add the aubergine at the last moment, to preserve their flavour.
Serve.
Pasta alla Genovese
Contrasting with the Sicilian tomatoes & aubergine combo, the Genovian dish uses potatoes, green beans, and carrots, with a dense green pesto.
Pasta alla Genovese
Ingredients (serves 2):
Dried pasta (trofie, small pasta "quills," or spaghetti)
1-2 medium potatoes, peeled and chopped into 1cm chunks
2-3 carrots, sliced thickly
110g green beans, cut into 4cm lengths
For making pesto:
75g fresh basil
60g pine nuts
60g parmesan
2-3 garlic cloves
100-125ml olive oil
Method (pesto):
Add basil leaves, pine nuts, parmesan (small chunks), and garlic (roughly chopped) to the food processor.
Process until chopped finely. Ensure there are no large chunks.
Turn food processor on and, while running, add olive oil in a thin stream through the funnel in the lid.
Add oil until you achieve a consistency that is thick, but drops off the spatula.
Transfer pesto into a bowl. Cover with cling film if you are not using it immediately.

Method (pasta):
Boil the pasta in a large pan of well-salted water.
Add the potatoes and carrots to the pan when 6-7 minutes off cooking time.
Add the green beans to the pan when 3 minutes off.
Drain. Toss together with the pesto.
Serve topped with grated parmesan or pecorino, and a sprig of fresh basil.
Notes:
You can keep the fresh pesto in an airtight jar, covered with a thin layer of olive oil, for a few days in the fridge.
Cauliflower & Macaroni Cheese
The cheesy pasta classic, supplemented with cauliflower.
Cauliflower & Macaroni Cheese
Ingredients (serves 2):
250g macaroni
100g cheddar, grated
1 head cauliflower, broken into pieces
450ml milk
25g butter
2 tbsp plain flour
2 tsp English mustard
Method:
Boil the pasta in a large pan of well-salted water.
Add the cauliflower to the pan 4 minutes off cooking time.
Drain and set aside.
Melt the butter in a frying pan. Stir in the flour and mustard. Cook for 2 mins, gradually adding milk, stirring to make a smooth sauce.
Add most of the cheese. Stir and melt.
Taste the sauce, and season.
Mix the pasta & cauliflower in the cheese sauce.
Transfer to an ovenproof dish. Sprinkle the remaining cheese on top. Flash under a grill on high heat, until golden and bubbling.
Mushroom & Potato Bake
The mushrooms are the soul of this dish, so they should be well-seasoned to bring our their flavour.
Mushroom & Potato Bake
Ingredients (serves 2):
A handful of dried porcini mushrooms, soaked
500g potatoes (all-rounders, not too waxy or floury — desiree or russet are good), very thinly sliced
250g fresh mushrooms (cremini, oyster, button, shiitake are good), sliced
30g parmesan, grated
2 tbsp olive oil
1 garlic clove, minced
Butter
Parsley, chopped
Method:
Soak dried mushrooms in warm water for at least five minutes (preferably half an hour).
Butter the inside of a shallow cake tin. Put a circle of baking paper in the bottom and butter that, too. Heat oven to 180ºC (160ºC fan).
Slice the fresh mushrooms. In a frying pan, heat the oil to a low heat, melt a knob of butter, and lightly fry the minced garlic.
Add the mushrooms and a pinch of salt.
Raise the heat so that by the time the mushrooms are soft, there is not too much liquid remaining in the pan.
Drain and chop the dried mushrooms and add to the pan, along with the parsley.
Peel and slice the potatoes very thinly. The side of a box grater works well (or a knife or mandolin).
Put half the potatos in the bottom of the tin. Cover with the mushrooms and most of the parmesan.
Layer the rest of the potatoes on top, press down lightly, and dot the top with butter. Cover with another circle of baking paper.
Bake at bottom of oven for 10 minutes
Move to middle of oven and bake for 30 minutes
Turn the heat up to 200ºC (180ºC fan) and bake for 10 minutes more, to get a golden bottom.
Remove from oven, rest for 10 minutes.
Run a knife around the edge of the tin to loosen. Invert it on to a plate, and pull away the parchment.
The top should be golden and crusty. If not, sprinkle with more parmesan and put under a hot grill for a few minutes.
Enjoy!
Notes:
This dish is good hot, but better warm (around room temperature), when the cheese glues everything together with the perfect consistency.
Good accompanied with braised vegetables (peas, broad beans/fava brans, spinach, or courgettes are good choices).
Mushroom, Spinach & Chickpeas Curry
A delicious, rich, supremely filling and satisfying vegetable curry with chickpeas, mushrooms, tomato, yoghurt, spinach and liberal doses of spice. It could not be easier to make — and the genius of the style is most of the vegetables are roughly chopped, which speeds up preparation. I recommend always making a minimum of portions of four (most other recipes in this collection are measured to serve 2). Store what remains in the fridge.
The curry is the substance, and pick your medium of delivery: rice, nan bread, chapatis, even heavy tortilla chips work.
Mushroom, Spinach & Chickpeas Curry
Ingredients (serves 4):
400g fresh mushrooms, thickly sliced
2 x 400g tins chickpeas, either drained or in their juices
1 x 400g tin chopped tomatoes
1 onion, roughly chopped
3 garlic cloves, crushed
30g root ginger, grated
30g tomato purée
1 tbsp garam masala
½ tsp smoked paprika or chilli powder
250g frozen spinach, defrosted (or fresh spinach, fried/boiled/steamed then chopped)
100g natural yoghurt
30g fresh coriander, roughly chopped
Olive oil
Method:
Heat a plash of olive oil in a frying pan over a high heat. Fry the mushrooms for 5-6 mins until golden brown, continuously stirring. Transfer to a plate.
Wipe the pan with a piece of kitchen roll, then add a little more oil and reduce the heat to medium.
Fry the onions for about 5 mins, until soft. If the pan is dry, add a little more oil, then add the garlic and ginger, fry for a couple of minutes, stirring to prevent burning or sticking.
Add the garam masala and paprika, fry for 30 seconds.
Add the tomato purée and chickpeas. You can drain the chickpeas, but if they are in their juices, you can put it all in. It makes for a delicious, rich, less tomato-based, sauce. Fry for 1 minute.
Add the chopped tomatoes, stir in the cooked mushrooms, cover, and simmer for 10 minutes.
Remove from the heat, stir in the spinach and yoghurt. Season to taste.
Enjoy!
Egg-Fried Rice
A proper egg-fried rice recipe. A substantial meal in its own right, rather than a side dish. The perfect comfort food. The recipe is simple, but there is a method to cooking it properly and getting great results. The secrets are below.
Egg-Fried Rice
Ingredients (serves 2):
400g basmatti rice ("the king of all rices," or other long-grain)
1 small onion, diced
½ pepper, chopped (take your pick of colour)
2 garlic cloves, minced
3cm ginger
Carrots, chopped
Peas
3 eggs (organic, free-range)
Sesame/peanut oil (suitably high smoke points)
Soy sauce
Oyster Sauce
Sesame oil
2 spring onions, sliced diagonally (optional, to garnish with)
Cooking the rice:
Clean the rice to rinse off the dust and starch, running cold water over it in sieve.
Season rice now, before cooking (easier to spread).
For most long grains, use 1 part rice to 1.333-1.5 part water (volume). Or, put your finger in the pot and, touching the rice, the water should extend to your first knuckle.
Cold water, lid on from start, bring up to boil as quick as poss.
Give it one stir when it reaches boiling point with rubber spatula, freeing the rice on bottom.
Lid on, lowest heat. Don't lift lid up – needs to steam cook. Weigh down lid to increase pressure, ideally (tins, etc).
Cook as per instructions, generally 11-13 mins.
Remove lid, check water level is good with fork. Cover and REST for 10-15 (the rice gets less fragile).
Fluff with spatula, not fork, to lift rice.
Method:
Cook rice ahead of time. Cool rice before stir frying it (preferably day old) – prevents mushiness.
Heat a pan with a little oil, almost to the smoking hot. Pan needs to be blazing hot to prevents mushiness.
Cook eggs first (takes seconds) and remove before they become solid, setting aside.
In a tablespoon of oil, fry the garlic and ginger first. Add onion, pepper, carrots.
Add the rice to pan (declumping first if needed). Cook for a few minutes until slightly toasted. Should brown up.
Drizzle small amounts of oyster and soy sauce. Don't overdo it (avoid mushiness).
Add eggs and peas, tossing them in the rice. Heat through (1-2 mins).
Season with salt, pepper, and chilli flakes as you like. You might also add a little MSG (if you have it) to enhance umami.
Remove from heat. Add a drop of sesame oil (finishing oil, not a cooking oil). Garnish with chopped spring onions, if you have them.
Enjoy!
Coming Soon…
More substantial vegetarian recipes on the way!
Nachos
Tortilla de Potatas
Hoisin Noodles
Chilli Bean Stir-fry
---
James Lanternman writes movie reviews, fiction, essays, and moonlit thoughts. Reach him at [email protected].
Previously… West Side Story (2021): A Movie Review