Substantial Vegetarian Recipes
A collection of hearty recipes that don't include meat or fish. Useful when replacing heavier meat dishes, paving the way to a greener diet.
One of the most biggest things we can do to fight climate change is to cut down dramatically, or eliminate, our consumption of meat. Actually, it is the biggest change you can make to your lifestyle to reduce the damage you contribute to the environment.
Which simply means: cooking, eating, and enjoying a lot more vegetarian (and vegan) recipes.
One point of friction that stops people from removing meat from their diet is the notion that vegetarian meals are not substantial.
This idea is absurd, but I think it is one that sticks. It is easy to associate "filling" food with meat, both through force of habit and cultural associations. When some people think of vegetarian food, they think light, leafy, and green. Which is indeed a great side of vegetarian cuisine.
… But! Vegetarian food can also, in fact, be indulgant, supremely filling, and substantial when that is what's called for.
Here is a recipe collection of such substantial dishes, that don't feature meat or fish. Useful for those moving away from meat consumption, but who need to be convinced non-meat recipes can leave them lying upturned like a beached whale, too.
This collection is a work-in-progress, which I will come back to refine and add more recipes to over time.
Mushroom Risotto
First up: mushroom risotto. Rich, flavourful, and filling. This is a heavy dish that uses butter and cheese to compliment its mushroom flavours, and short-grain rice as its base.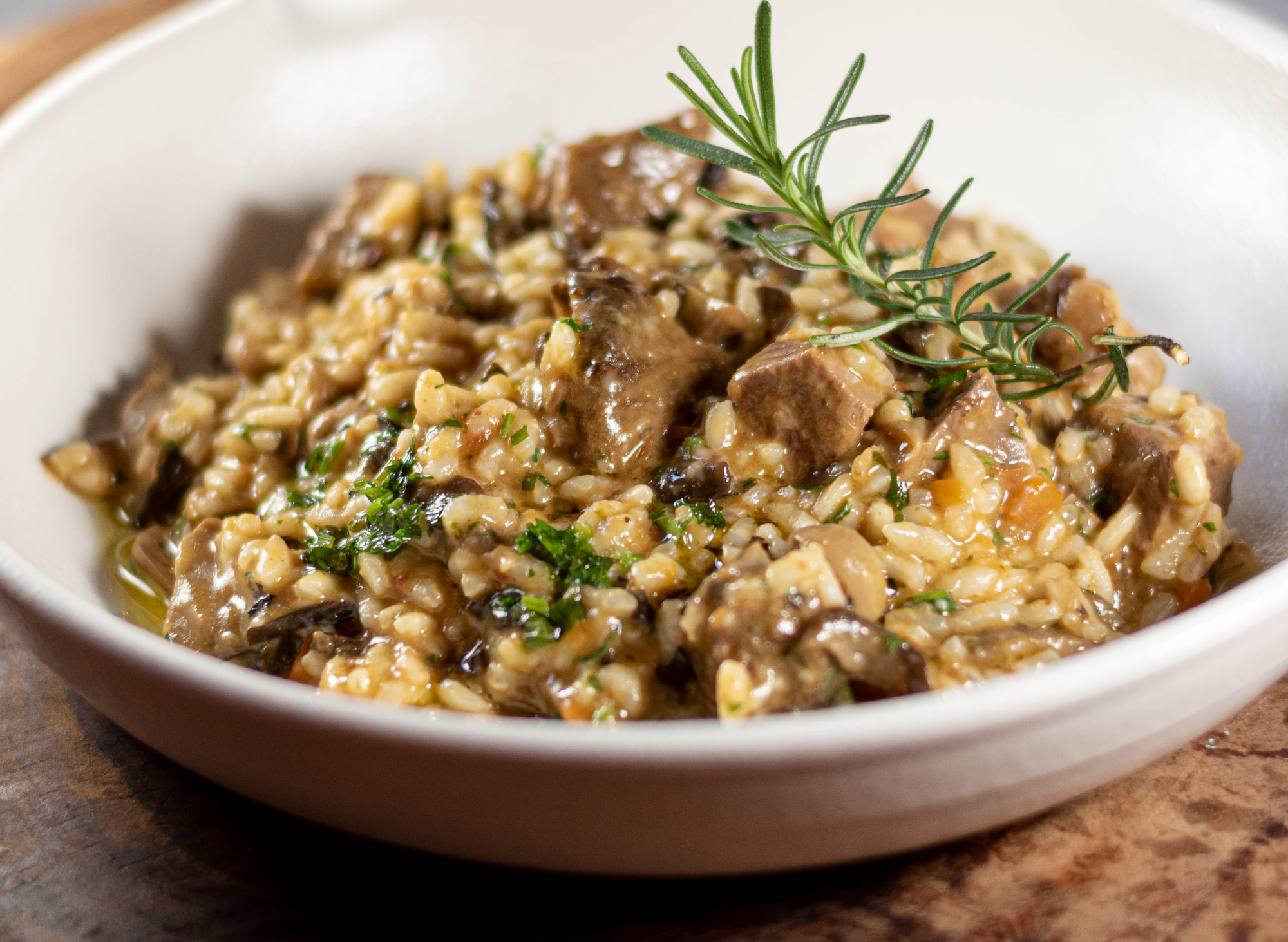 Mushroom Risotto
Ingredients (serves 2):
150g fresh mushrooms (field, chestnut, porcini, ovoli, chanterelles — almost any will do)
20g dried porcini mushrooms
150g risotto rice (arborio, carnaroli, vialone nano)
30g parmesan, grated
30g butter
½ onion or 2 shallots, finely diced
1 garlic clove, finely chopped
1.25 litres (5 cups) vegetable stock
1 tbsp x olive oil
1 tbsp x rosemary leaves, chopped
75ml (½ a glass) white wine or vermouth (optional)
1 tbsp x lemon juice (optional)
Directions:
Soak the dried mushrooms in warm water for at least five minutes (preferably half an hour). Drain. Chop, along with the fresh mushrooms.
If making stock with cubes: bring water to a boil, dissolve cubes, reduce heat to low, simmer.
Heat olive oil and 15g butter in a saute pan over a medium heat. Add the onion and fry, stirring, until soft and translucent (a few minutes)
Add the rosemary and mushrooms. Fry, stirring, until the mushrooms are soft (about 3 minutes).
Add the rice. Stir until the grains appear translucent (about a minute seconds).
If not using lemon juice: up the heat, add the wine/vermouth, should sizzle. Cook, stirring until most of the liquid has evaporated.
Add one ladleful (125ml/half a cup) of the simmering stock to the rice mixture. Stir with a wooden spoon until all the liquid is absorbed.
Add the remaining stock, one ladleful at a time, stirring constantly and waiting until each is absorbed before adding the next.
Continue until the rice is done. Should be plump, still firm, and not chalky in the middle (about 20-25 minutes). The consistency of the rice should be loose and creamy.
Remove the pan from the heat. Add most of the parmesan & parsley (leave a bit to top with).
If not using wine/vermouth: stir in the lemon juice.
Taste, season, cover the pan. Leave resting, covered (5 minutes).
Serve, topped with the remaining parmesan and parsley.
Note:
To make a vegan version, just use olive oil (no butter) and replace the parmesan with a small amount of nutritional yeast.
Vegetable Paella
A second shot-grain rice dish, but paella is cooked and prepared in a very different style than risotto. The rice remains firm. And in place of butter and cheese, we have a rich variety of greens, auburgine, zucchini, and potato, and some tomato.
Vegetable Paella
Ingredients (serves 2):
125g paella rice (short-grain, preferably bomba)
Vegetable stock (equivalent to double the rice volume)
75g green beans, chopped
50g broad beans (fava beans)
3 garlic cloves, chopped
1 tomato, peeled and grated
1 onion, finely chopped
1 artichoke, chopped & spinkled with lemon juice
½ aubergine (eggplant), cubed
½ zucchini, cubed
½ potato, peeled & chopped
½ bunch spring onions
25g peas
25g spinach, chopped
Sweet pimenton (paprika)
Dried laurel leaf
½ lemon
Directions:
Heat olive oil in a paella pan, sauté onions until softened.
Add artichoke, fry on a low heat for 5 minutes.
Add potato, fry 2 minutes more.
Add green beans, aubergine, zucchini, spinach. Fry 1 minute.
Add tomato, garlic, broad beans, and peas. Cook for 5 minutes, stirring often.
Add paprika, quickly followed by rice. Stir for 1 minute.
Add vegetable stock and cook on a high heat until rice is done (about 15 minutes).
Remove from heat. Let stand for 5 minutes.
Serve hot, with lemon wedge.
Pasta alla Norma
One of the staple pasta dishes of Silicy, which happens to be vegetarian. The stars of the show are golden-brown fried cubes of aubergine, on short pasta tubes coated in a tomato sauce and topped with hard ricotta cheese.
Pasta alla Norma
Ingredients:
1 aubergine (eggplant), cubed
2 garlic cloves, finely chopped
Short tube pasta (rigatoni, boccole, macarrones)
1 dried chilli
1 tin of chopped tomatoes
Panko bread crumbs
Fresh basil
Ricotta salada (salted ricotta, hard cheese), grated
Directions:
Cube the aubergine and put in colander. Salt. Leave salting over sink for at least 10 minutes, to draw out excess moisture.
On a low heat, fry the galic until softened. Don't colour. Add chilli towards the end.
Add chopped tomatoes. Simmer for 10-15m, until the sauce thickens.
Rinse the aubergine. Add to frying pan on a high heat. Should sizzle and begin to brown immediately. Fry until golden.
Fry the bread crumbs.
Cook pasta. Season with pepper.
Add the pasta to the sauce. Turn the heat up and toss in sauce for one minute.
Serve, garnished with grated ricotta, fried bread crumbs, and torn basil leaves.
Add the aubergine at the very last moment, before serving. Otherwise, their flavour will be lost.
Pasta alla Genovese
Contrasting with the Sicilian tomatoes and aubergine combo, the Genovese staple puts to use green beans, carrots, and potatoes. The green pesto sauce gives this a parmesan-based heaviness.
Pasta alla Genovese
Ingredients (serves 2):
Dried pasta (trofie, small pasta "quills," or spaghetti)
1-2 medium potatoes, peeled and chopped into 1cm chunks
2-3 carrots, sliced thickly
110g green beans, cut into 4cm lengths
For making pesto:
75g fresh basil
60g pine nuts
60g parmesan
2-3 garlic cloves
100-125ml olive oi
Method (pesto):
Add basil leaves, pine nuts, parmesan (small chunks), and garlic (roughly chopped) to the food processor.
Process until chopped finely. Ensure there are no large chunks.
Turn food processor on and, while running, add olive oil in a thin stream through the funnel in the lid.
Add oil until you achieve a consistency that is thick, but drops off the spatula.
Transfer pesto into a bowl. Cover with cling film.

Method (pasta):
Cook pasta in well-salted water.
Add the potatoes and carrots 6-7 minutes off cooking time.
Add the green beans 3 minutes off.
Drain. Toss together with the pesto.
Serve with parmesan or pecorino, and a sprig of fresh basil.
Notes:
You can keep the fresh pesto in an airtight jar, covered with a thin layer of olive oil, for a few days in the fridge.
Cauliflower & macaroni cheese
A classic cheese-tastic pasta recipe. As filling as things get, supplemented with cauliflower to give this calory-tastic recipe a nutritional kick.
Cauliflower & macaroni cheese
Ingredients (serves 2):
250g macaroni
100g cheddar, grated
1 head cauliflower, broken into pieces
450ml milk
25g butter
2 tbsp plain flour
2 tsp English mustard
Method:
Cook the pasta according to instructions.
Add the cauliflower 4 minutes off cooking time. Drain and set aside.
Melt the butter in a pan. Stir in the flour and mustard. Cook for 2 mins, gradually adding milk, stirring to make a smooth sauce.
Add most of the cheese. Stir and melt.
Taste the sauce, and season.
Mix the pasta & cauliflower in the cheese sauce.
Transfer to an ovenproof dish. Sprinkle the remaining cheese on top. Flash under a hot grill until golden and bubbling.
Coming Soon!
More hearty vegetarian recipes are coming.
Including…
Mushroom Potato Bake/Gratin
Broccoli & Egg Fried Rice
Mushroom, Spinach & Chickpeas Curry
Hoisin Noodles
Chilli Bean Stir-fry