The Beasts (As bestas): A Movie Review
A memorable thriller with horror leanings, telling a tale of nature, brutes, and cultural divides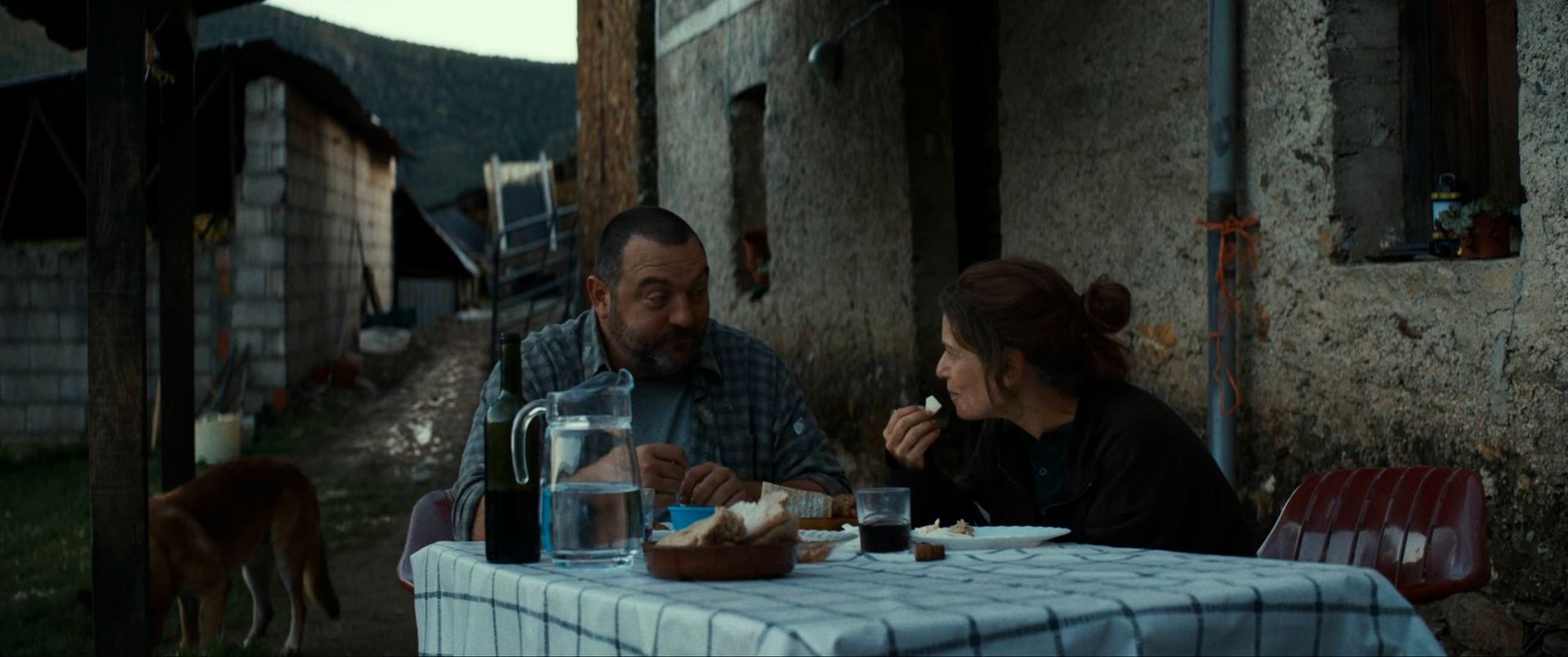 As bestas (2022) starts with a slow-motion shot of Galician farmers wrestling horses to the ground. A foreboding orchestral soundtrack accompanies the image, calling to a dark side of humanity. The violently forceful and controlling.
A title pops up with a statement that sounds reasonable, but doesn't quite jibe. It adds to the unsettling opening tone, alluding to ideas of freedom and captivity.
To allow them to live freely, the aloitadores immobilise the beasts with their bodies to crop and tag them.
Rodrigo Sorogoyen, a Spanish director from Madrid, directs. The film is set in Galicia, a beautiful, pastural, historically Celtic region in northwest Spain, with the script in Galician, Spanish, and a dash of French.
Outside the region of Galicia, the movie shows with subtitles across Spain — so even more than usual, don't be put off by what Bong Joon Ho calls the "one inch barrier" of international cinema. You'll be getting largely the same experience as audiences in its home market, where it has been pulling crowds into movie theatres since November. The cadence and timbre of the Galician language (Gallego) feels like an integral part of the viewing experience.
The movie has done very well at its home box office. It is now just a few hundred thousand dollars away from the lifetime Spanish receipts of Pedro Almodóvar's masterful Pain and Glory (2019), and should surpass it in the coming days [update: it has now surpassed this mark in Spain]. A very high benchmark to approach, and more impressive when you consider much of the dialogue is not in Spanish.
In February, the movie cleaned house at the Goyas, Spain's biggest film awards. It won: Best Film, Best Director, Best Cinematography, Best Actor, Best Supporting Actor, Best Sound, Best Editing, and Best Screenplay. Phew.
It was not selected as Spain's submission for the 2023 Academy Awards (the lighter-toned Alcarràs took that spot), so the Goyas triumph shouldn't be taken as the sign of a weak field. Spanish cinema is undergoing a creative resurgence, and 2022 was a good one.
This is a movie that has captivated and held interest in Spain for months for good reason. The acting is superb, the story gripping, and it masterfully speaks on cultural divides in a way that feels relevant to the modern world. It draws on horror, but is extremely un-supernatural; the story takes place in and focuses on the natural world. It is a thriller and drama first.
The film is scheduled for release in a few more theatrical markets in March, but there are still many it has not been shown at. Hopefully it will see cinema runs in some of the big markets soon, before going to streaming. The Oscars exclusion will have reduced the chance of that happening, but it is for me the best Spanish production of 2022. I would pick it over the 2023 winner for Best International Feature, All Quiet on the Western Front.
---
In the story, a middle-aged French couple, Antoine and Olga, have moved to a small rural town in Galicia, where they grow organic vegetables in their orchard to sell at the local market, and renovate properties in the village that have fallen into disrepair.
The village is suffering from continuing depopulation over decades (a real problem in rural Spain today, tracing back to Franco-era economic policies), and the associated financial and spiritual hardships it imposes on those who remain living there.
Olga and Antoine are there to work hard on their orchard, which is a passion for them as well as a means to an end. They live in a sustainable and ecologically-minded way, enjoy the stunning nature around them, and contribute positively to the local community, which is for the most part very pleasant. Their move to the village, and the life they are trying to create there, is the realisation of a dream and ambition — for them.
Some residents of the village they have moved to have experienced life there differently. They feel isolated, with little money and few economic opportunities, and tough jobs in farming and agriculture. Some want to leave but can't. Some think they are not living a dream as much a nightmare, a vicious cycle of depopulation and economic stagnation, trapped in a small village with few people, few opportunities, and only able to scrape by a living.
A wind turbine company wants to purchase land owned by local farmers, and a vote takes place between landowners. Antoine votes against the sale, taking an ecologically-minded stance against the company's wind turbine project, as well as the low price the land would be sold for. By doing so, he comes in between some locals and a small windfall that would have come their way via the sale.
Narrative conflict centres on two local farmers and brothers, Xan and Lorenzo, who live with their mother and are particularly bitter and disaffected.
Xan, the elder brother, is outspoken, entitled, angry at the world, and frequently voices his miseries in all matters at the local pub. He is uneducated but shrewd and socially controlling, with a mind that is intelligent but corrupted by hatred, resentment, and bigotry.
Lorenzo is a simpleminded, physically brutish character who follows his brother mindlessly in all matters, adopting many of his nastier traits and beliefs. We are told he suffered a horse accident as a young man that impacted his mental faculties.
Other villagers take issue with the brothers, but Antoine's status as a foreigner puts him in the crosshairs. His insistence to stand on principle, and refusal to show the brothers the respect they feel owed, quickens an escalation of misgivings into a full-blown feud. A sense of dread builds between Antoine and Olga as it develops into something that feels dangerous, and their attempts to resolve the situation fail.
---
A conflict along the lines of the urban–rural divide is at the heart of the narrative. It relates brilliantly to modern cultural differences between those who are ecologically minded, with left-wing beliefs, who love nature though they might have spent most of their life in the city, and those who are inhabitants of the countryside and have lived there, working in and making a living from nature, since birth.
The script adeptly explores the compatibilities and incompatibilities between these two ways of life, exploring them with authenticity and balance, without reducing either side to a uniform stereotype. It is extremely well written, with dialogue that feels taken straight from reality rather than written down on the page. The acting mirrors this trait, with performances that are both dramatic and naturalistic.
Two contrasting relationships with nature are at play. One is more idealistic, seeing nature primarily as a caring and wonderful host of life, to be treated tenderly. The other is extremely down-to-earth from experience, seeing it as a tough, indifferent, relentless task master that needs to be worked hard and exploited to its full to turn a profit, and is capable of devouring the people who work in it.
The conflict of the narrative also draws on cultural differences between Spain and France, nations used to represent nationalistic attitudes that persist to this day related to cultural and historical grievances, and patriotic stories we tell of ourselves — often belonging to parts of history that no longer apply to the modern world. It also touches on the complacency of law enforcement when it comes to taking action that might disrupt the status quo.
Age-old contrasts of character are articulated in a way that feels relevant. The haughty and the down-to-earth. The idealist and the cynic. The friendly-but-naive and the tough-but-embittered. The educated and the streetwise. The fortunate and the unfortunate. The joyful mind and the embittered one. The menacing and the stubborn. Those that will use intimidation and force to get what they want, and those who are gentle at heart but stand on principle at any cost.
---
Money sparks the fire of conflict, but what adds real fuel to the fire, more than any cultural and ideological differences, is something different. True to life, character traits associated with personality disorders are what often make things seriously and unnecessarily destructive.
The ingredients of conflict are made volatile by the kind of individual you might find at the heart of any divide, loudly and forcefully asserting their views onto others, embittered, psychologically unable to back down, and brutish and predatory in nature. The "beasts" the title alludes to. As well as the brothers, they are represented from the urban and financially successful side of life, too.
Though the story contrasts two cultures and mentalities that can be argued for reasonably, the central conflict does not have moral ambiguity. On one side is evil, which has taken root in the community in a way that is difficult to remove — even if its representatives have legitimate grievances and hardships. The other side at conflict is good-natured and constructive, even if arrogant and clumsy in how they step into a foreign culture. Antoine might be arrogant, but he has a right to live the way he does, and assert himself where he does and how he does.
The story also explores male and female approaches to problem-solving and conflict resolution. The wisdom that lies outside testosterone-influenced thinking is put centre stage and becomes a big focus further into the story, as Olga tackles the problem in her own way.
The performances are terrific, with Denis Ménochet (Antoine), Luis Zahera (Xan), and Diego Anido (Lorenzo) all excellent in their roles, rendering characters with vivid and unforgettable qualities. They all deserved recognition at the Goyas. Marina Foïs did not win Best Actress as Olga, but her understated performance is for me the most remarkable, forging a character that leaves the most long-lasting impression after the credits roll.
Olga functions as an example of a strong and determined adversary to the evil she encounters. A memorable articulation of a modern female warrior: fiercely strong when called for, embodying love in her actions, and equally wise and hardheaded. She proactively avoids future conflict without ever backing down.
The movie theatre was packed when I saw it, with an interesting and diverse crowd. It felt like a movie that was, along with regular cinema-goers, drawing people out of their homes to go see it from many walks of life. The word-of-mouth factor was in full effect.
As bestas functions as a mature meditation on the modern world, striking many cultural notes in a way that feels relevant and timely. It is tense and brooding, equally light and dark, with a captivating story that entertains, thrills, and leaves a strong impression.
Its absence at the Academy Awards will make big cinema runs in the markets it has not been to yet less likely, but if you do get the chance, I highly recommend allowing this one to draw you into the darkened auditorium of cinematic dreams (or nightmares).
---
James Lanternman writes movie reviews, fiction, essays, and moonlit thoughts. Reach him at [email protected].
Previously… The Fire Within: A Requiem for Katia and Maurice Krafft: A Movie Review